The "hero's journey" model of myth researcher Joseph Campell can be very well transferred to the travel process.
He found out that many stories and fairy tales from around the world always follow a similar pattern: The heroine (also meaning the male term) has a calling for embarking on an adventure. The resistances keep her from following it at first. A mentor (for example, in the form of a fairy, etc.) helps to cross the threshold into the unknown world, where the dragons must be defeated, the evil spell vanished, or the enemy must be outsmarted.
The treasure manifests itself in the elixir of life, the holy grail or in finding something wanted. The heroine often finds it difficult to return to the familiar world, and renewed resistance when walking across the threshold is noticeable.
When returning home, the heroine is no longer the one she was before her journey: she has grown inwardly and now has the new task of integrating what she has learned into her familiar world before a new calling enables  her to embark on a new journey.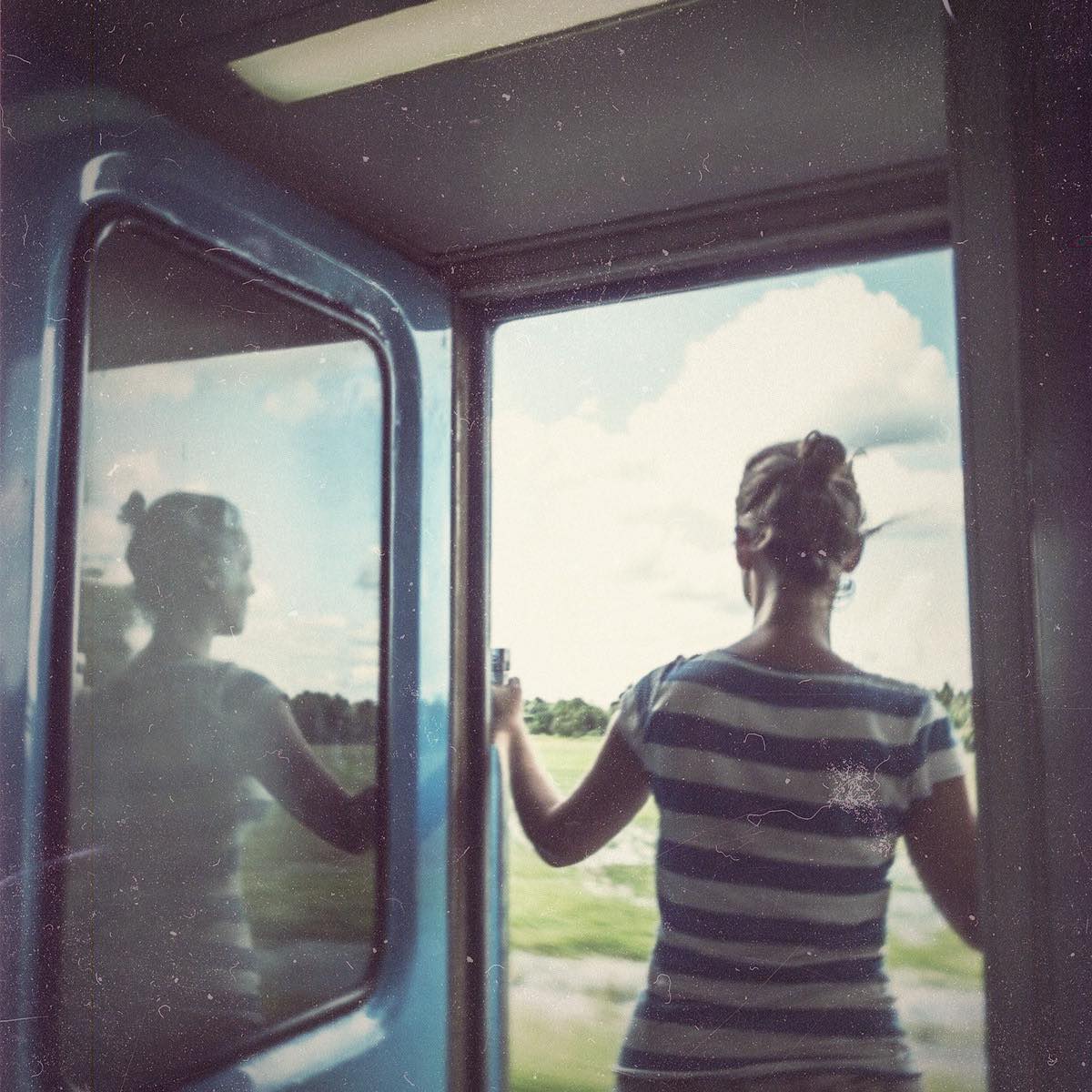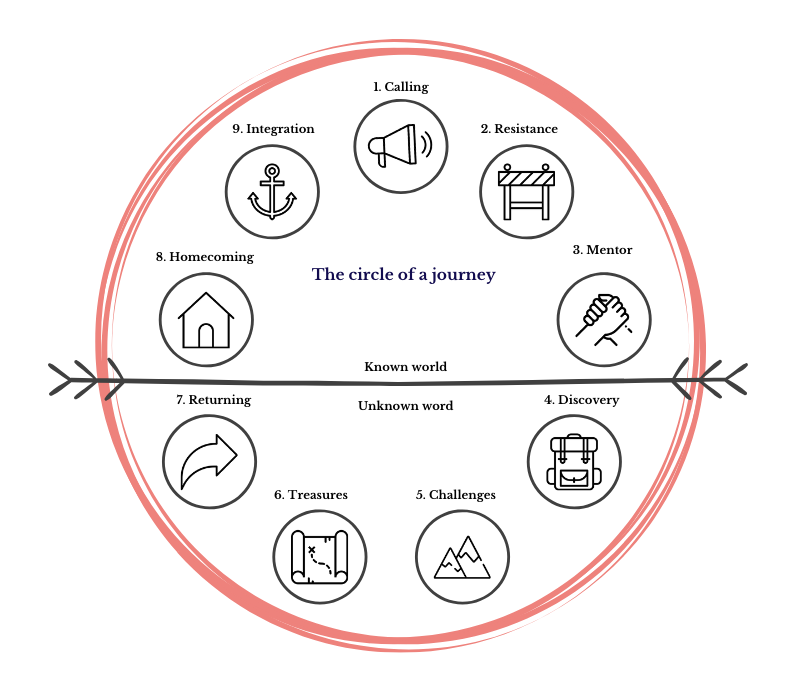 THE CALLING
To us, a journey begins the moment a soft voice is heard whispering to us, "Actually you would like to travel.". This voice that calls us to make our way into the unknown.
THE RESISTANCES
"But you do not have enough money!", "You'd better look for a job!", "You're too scared anyway!", "You can not set yourself off alone." These are just a few examples of resistances that, in the form of inner and outer voices, try to keep us from (and unfortunately often failing) making our way into the unknown. In fact, a certain moment in life may not be right for a journey. However, dealing with one's own resistance is an important step in exposing the beliefs that are very often behind it.
THE MENTOR
Other people, changes in our lives, inspirations, valuable information, ideas, etc. can help us to really dare the step into the unknown, our journey.
CHALLENGES
When travelling, we encounter different challenges: confrontation with other cultures, perspectives, living conditions and, above all, with ourselves. The more unplanned the journey is, the more we are exposed to uncertainty and the unknown. The list of challenges on a journey is long and can be very individual.
THE TREASURES
The true treasures that we receive on a journey are not of material nature: They do not have shape or form. They show up in encounters, in insights about ourselves, in profound natural experiences, the shifting of one's own supposed limits and so much more.
THE REINTEGRATION
The return is a very important part of the journey itself. Here, the transformed "self" shows itself in its old environment (this can be related to the people from the home, a place, a work, etc.). The experiences of the journey take on a new quality and also want to change the "old" life. This process is not always easy and presents us with new challenges and valuable learning experiences.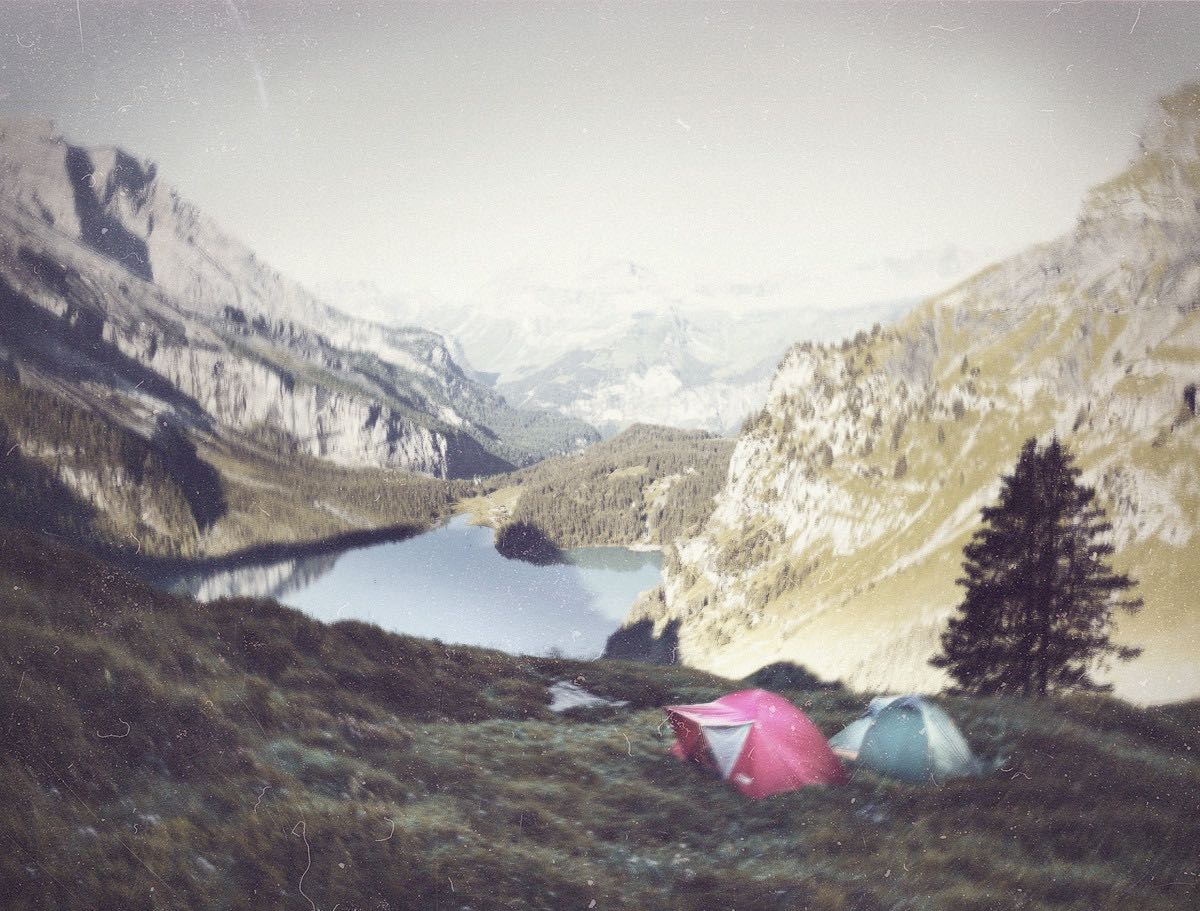 We find that the potential of travelling for personal development, profound intercultural exchange and positive social change has not yet been fully tapped.
We want to support people in their individual travel processes and raise awareness for responsible, culturally sensitive and mindful travelling. Therefore, the traces that we leave behind when travelling should be of a positive nature.

We create holistic experiences and possibilities of reflection on different levels for travellers throughout the travel process: not only with our mind, but also with the heart and the body. Because at all these levels, we learn or make our experiences.

As part of Navigaia Travel, we offer trainings and workshops that encourage travel, prepare for individual travelling, support people during their travels, and then provide space for reflection and follow-up after returning home. In addition, we want to encourage people who have not yet had access to the subject of travel for various reasons. It is important to us that people become mature travellers, take responsibility and behave in an environmentally and culturally sensitive manner and use travel for their own personal development.
EnCourage Youth Exchange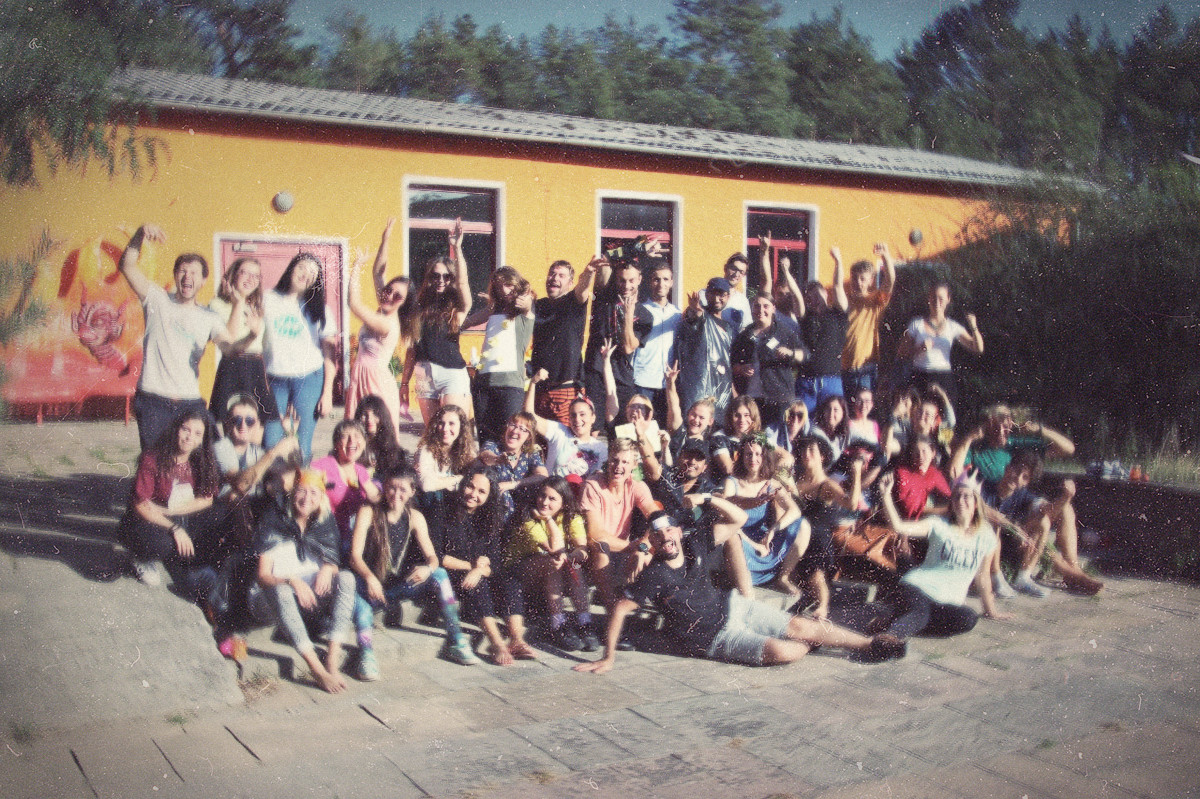 Traveling is a wonderful way to discover ourselves and the world we're living in, to widen our horizons, to get out of our comfort zones, gain new perspectives, discover new cultures, have enriching encounters and so much more. We aim to encourage young people with fewer opportunities to travel and to prepare them for their upcoming journey on a deep and meaningful level. EnCourage is an 10-day action-oriented Youth Exchange aiming at mobility and social inclusion of young people with fewer opportunities. Through a variety of activities embedded in the archetypal story pattern of "The Hero's Journey" the participants will create their own vision for their personal Hero's Journey. EnCourage gives a playground where participants can experience, reflect and improve their personal and intercultural competences with a focus on cultural awareness and social responsibility.
In September 2019, our first EnCourage Youth Exchange took place at the beautiful venue Zebra Kagel, close to Berlin.
You can find more information about it here in our journal post as well as on the website of EnCourage.
CURRENT WORKSHOPS & TRAININGS
"The workshop TravelCOURAGE was great and did exactly what was promised: the courage to embark on the outer (and inner) journey and to trust one's own abilities … ! Courage does not mean that you are not afraid – Courage means you will not be deterred by the fear, thank you to Veronika and Zaklina for the great workshop!"