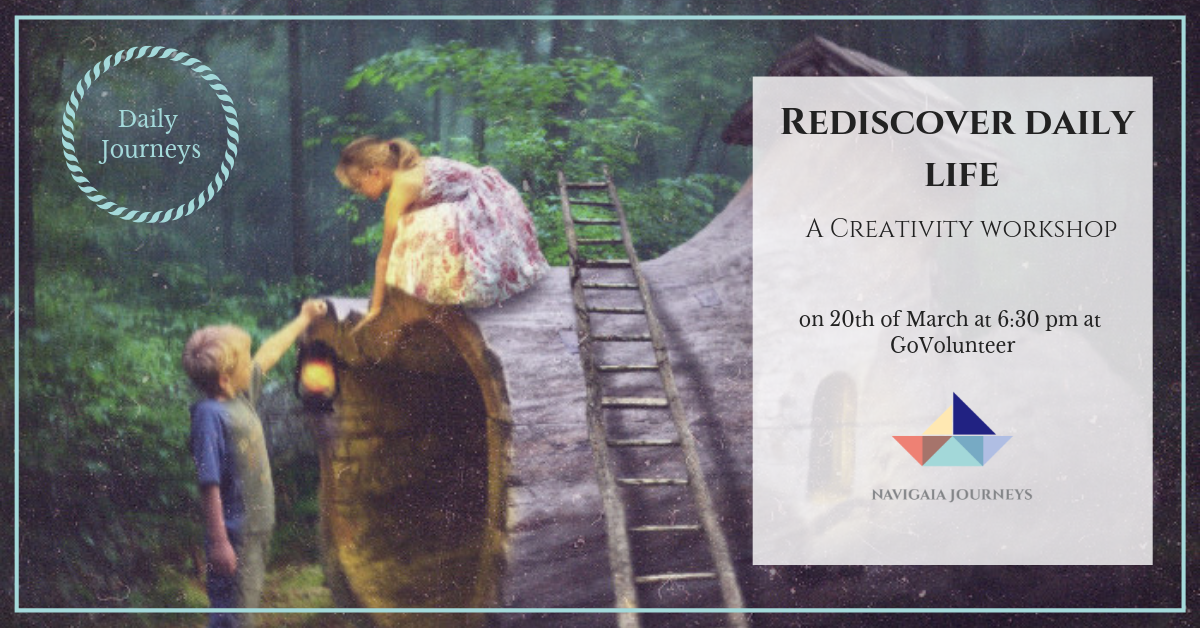 Rediscover daily life: A creativity workshop
20/03/2019 @ 6:30 pm

-

9:30 pm

|

Donation
Do you like travelling? Would you like to experience your daily life more often like being on a little journey? Would you like to discover new things day by day? Do you sometimes feel you get stuck in your daily routines?
The "Rediscover daily life" creativity workshop will:
– inspire you to experience your daily life differently
– create connections with other people
– come with lots of fun and good conversations
– strengthen your creativity
– support you in changing perspectives
– encourage for the unknown
In our workshop, you will work in small teams on ideas on how everyday life can be experienced again and again like travelling itself. We will also give you a set of creative methods to get into a process of coming up with new ideas you might not even have thought of before. We don't want to tell you more about this evening as… the workshop itself will be a small journey. 😉
We're super happy to cooperate in this event with GoVolunteer who stand for an active society. They want to make volunteering part of everyone's daily life – by making it easy and rewarding.
Admission:
We're happy about donations to continue our work. Recommended donation depending on the income: 4-15€ You can sign up for the event HERE or via Email: veronika.mercks@navigaia-journeys
Important note:
We will start punctually! 😉 Please sign up through Eventbrite so that we know how many people to expect. The event takes place in the facilities of GoVolunteer.
***About "Daily Journeys"***
Travelling is a wonderful way to get to know and discover ourselves and the world around us, to have encounters, to try new things and so much more. We find that life itself is a journey and that we can actually experience also our daily life a bit like travelling. In our community series "Daily Journeys" we create experiences that enable encounters, encourage to step into the unknown, inspire to change perspectives as well as to get to know something new and so much more.